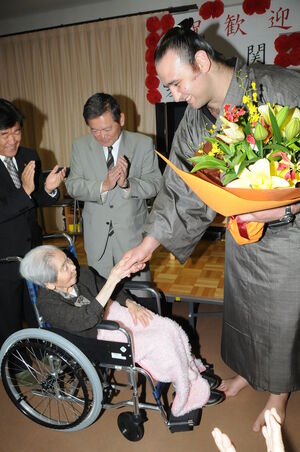 Yuki Kamitamari (Japanese: 上玉利ユキ; 15 February 1907 – fl. 1 September 2018) was a Japanese supercentenarian whose age is validated by the Gerontology Research Group (GRG). She was one of the oldest known living people in Fukuoka Prefecture, Japan.
Biography
Yuki Kamitamari was born in Japan on 15 February 1907. In September 2016, she was reported as the 11th-oldest living person in Fukuoka Prefecture. As of September 2017, she was the sixth-oldest known person in the prefecture. Her age is validated by the GRG on 14 May 2019.
Yuki Kamitamari lived in Kitakyushu, Fukuoka Prefecture, Japan. She was the third-oldest known person in Kitakyushu after a 114-year-old anonymous woman and 111-year-old Satsuki Ezaki. In September 2018, she was reported as the 4th oldest living person in Fukoka Prefecture, behind Kane Tanaka, Chizuko Yoshizawa and Anonymous (Fukoka) b. 1906. Kamitamari was last confirmed alive on 1 September 2018, at the age of 111 years, 198 days.
In September 2019, she went to limbo, as she was no longer reported as the oldest citizen of the town.
Gallery
References
Community content is available under
CC-BY-SA
unless otherwise noted.