Yuki Iwasaki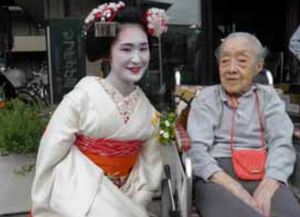 Yuki Iwasaki (right)
Unvalidated
Yuki Iwasaki [Japanese: 岩﨑ゆき] (born 7 February 1906) is a Japanese supercentenarian whose age is currently unvalidated by the Gerontology Research Group (GRG). She is the second-oldest living person in Kyoto Prefecture, Japan, behind a 112-year-old anonymous woman of Kyoto City.
She played the shamisen (a three-stringed traditional Japanese musical instrument) until the age of 93.
She currently lives in Kyoto City, Kyoto Prefecture, Japan at age of 114 years, 260 days.
References
Community content is available under
CC-BY-SA
unless otherwise noted.