Willie Mae Hardy



Willie Mae Hardy on her 111th birthday

Birth:
11 March 1908
Junction City, Georgia, USA
Death:
11 December 2019
Decatur, Georgia, USA
Age:
111 years, 275 days
Country:
USA
Unvalidated
Willie Mae Hardy (11 March 1908 – 11 December 2019) was an American supercentenarian whose age is currently unvalidated by the Gerontology Research Group.
Biography
Early Life
The daughter of a slave, Hardy was born in Junction City, Georgia, USA, on 11 March 1908. Growing up, she worked on a farm and in the cotton fields. She had to stop attending school in the 3rd grade to stay home and help her mother raise her younger siblings. In 1925, she gave birth to her only child, Cassie Neil.
Hardy moved to Atlanta, Georgia in 1939, where she met her husband, Frank Harvey. She joined Butler Street Baptist church in 1944, and has remained a member there ever since. Following the sudden death of her son-in-law to cancer in 1966, Hardy moved from downtown Atlanta to the suburbs of Decatur to help raise her seven grandchildren. She worked as a housekeeper for 60 years before retiring in the 1980s.
Later Life
In her later life, Hardy lived with her daughter Cassie in Decatur, Georgia.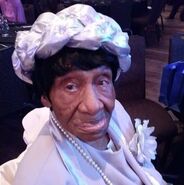 She enjoyed attending church, listening to gospel music, and watching TV. As of 2019, she had seven grandchildren, ten great-grandchildren, 30 great-great-grandchildren, and four great-great-great-grandchildren.
In May 2019, Hardy received free tickets to attend former U.S. First Lady Michelle Obama's book tour. She died on 11 December 2019 at the age of 111 years, 275 days.
References
Community content is available under
CC-BY-SA
unless otherwise noted.