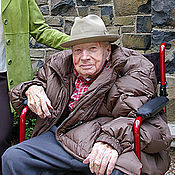 Walter Hamilton Seward (13 October 1896 – 14 September 2008) was a validated American supercentenarian who was, at the time of his death, the third-oldest verified man living in the United States, the sixth-oldest man in the world one of the 30 oldest living people and was the verified oldest recognized living person in New Jersey. He is also the 36th-oldest man ever.
Seward was well-known before his centenarian years as he was an accomplished lawyer.
To this day, Seward remains the oldest verified man born in Ohio and the oldest verified man to die in New Jersey (though Alphaeus Philemon Cole was born in New Jersey and lived to a greater age, he died in New York).
References