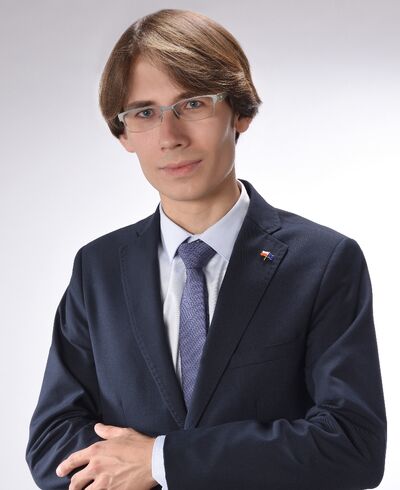 Waclaw Jan Kroczek [Polish: Wacław Jan Kroczek] (born June 17, 1991) Polish physician, social activist, and scientist; known for his research on longevity. Administrator at the Gerontology Research Group.
Biography and scientific activity
Waclaw Jan Kroczek was born in Tarnowskie Gory [Polish: Tarnowskie Góry], Silesia, Poland, on 17 June 1991. He is a graduate of the Stanisław Staszic High School in Tarnowskie Gory. He previously graduated from Nicolaus Copernicus Elementary School in Tarnowskie Gory and the Junior High School of the Social Educational Society in Bytom. In 2015, he graduated from the Medical University of Silesia - Faculty of Medicine and Dentistry in Zabrze. In 2013, he became the Polish correspondent of Gerontology Research Group (www.grg.org) an international non-profit scientific organization dealing with biogerontology and human longevity. The primary goal of this institution is research into gerontology to delay the aging process of organisms. It also deals with age authentication of the oldest people in the world, including supercentenarians. Between the years 2015-2018 he was the administrative assistant, and in 2018 he became one of the administrators of this scientific institution. His interests include the population of semi-super-centenarians in Poland (over 105 years), aspects of senior care, social policy and the socioeconomic situation of older people.
Participant of many domestic and foreign scientific conferences. In 2016, he won the first prize in a public health session held at Gdańsk 24th International Student Scientific Conference, for his work "The emergence of supercentenarians in Poland and the study of human longevity". He participated in conferences organized by the Max Planck Institute for Demographic Research in Copenhagen, Denmark (2015) Tallinn, Estonia (2016) Rostock, Germany, (2017) and Paris, France (2019). He proved the existence of the population of supercentenarians (people over 110 years of age) in modern Poland. By 2019, he described 17 such cases, and all these people were women. He visited and interviewed six of them, including Aleksandra Dranka of Harklowa (1903-2014), Jadwiga Szubartowicz of Lublin (1905-2017) and Tekla Juniewicz of Gliwice (1906-present), Czeslawa Lasiewicz of Monki [Pol. Mońki] (1907-2018), Irena Smialowska of Legionowo (1908-2019) and Antonina Partyka of Bojadla [Pol. Bojadła] (1908-present). In cooperation with the closest family and through the Consulate General of the Republic of Poland in Lwów, he reached the original birth record of Tekla Juniewicz, proving her status as the oldest Polish woman in modern history and the first who crossed the barrier of 112 and 113 years in Polish history. In 2014-2015, he participated in an international scientific team's travels to Verbania, Piedmont, Italy, where they met and interviewed several times the oldest living European at the time and the last surviving person in the world born before 1900, Emma Morano (1899-2017). In 2017, he travelled to Sprockhoevel, North Rhine-Westphalia, Germany, where he twice met and interviewed Mathilde Mange (1906-present), who later became the first German woman who reached the age of 113. He lectured at the University of the Third Age. He is a regular columnist for Gazeta Senior, a nationwide magazine devoted to the social issues of the elderly. In 2018 he took part in a competition organized by the MEP Jerzy Buzek "(Un)ordinary women - unusual stories. Silesian women on the 100th anniversary of independence", in which he brought closer the figure of Stefania Zacharska (1906-2016), a well-deserved teacher from Tarnowskie Góry, who lived to 109 years and was also one of the oldest Polish women. Based on his experience, he hypothesized that the secret to longevity, which supercentenarians state independently of each other, is, among others, the resistance to stress, optimism, strong family ties and Scandinavian moderation, the golden mean.
Wacław Jan Kroczek also cooperated with Guinness World Records to validate of two candidates for the title of World's Oldest Man from Poland: Alexander Imich of New York, USA (1903-2014) and Israel Kristal of Haifa, Israel (1903-2017). Due to the discovery of sufficiently strong evidence from the archives that meet modern age validation standards, compiled in the monograph "Supercentenarians" by the Belgian demographer Dr. Michel Poulain, the Guinness World Records officially recognized both (Alexander Imich in 2014, Israel Kristal in 2016) as the oldest living men in the world in their time. He appeared many times in various domestic and foreign media in connection with important events and reports from the niche of longevity.  
Political activity
Waclaw Jan Kroczek ran in the 2019 Polish Parliamentary election, starting from the Left and finished 4th on the list in the 29th Electoral District (Gliwice), receiving 2175 votes.[1]
Publications
External links
References
1. Wprost (2.01.2015) "Teksty roku: Alexander Wielki" https://www.wprost.pl/tylko-u-nas/487247/teksty-roku-aleksander-wielki.html
2. Tarnogórski.pl (25.11.2015) "109. urodziny Stefanii Zacharskiej | Powiat tarnogórski: http://www.powiat.tarnogorski.pl/node/5847
3. Gwarek (14.12.2015) "W poszukiwaniu najstarszych" https://gwarek.com.pl/gwarek/artykul/w-poszukiwaniu-najstarszych-polakow
4. Gwarek (20.09.2016): https://gwarek.com.pl/gwarek/artykul/poegnano-stefani-zacharsk
5. Dziennik Wschodni (16.10.2016) "Najstarsza Polka mieszka w Lublinie. Skończyła 111 lat: https://www.dziennikwschodni.pl/lublin/najstarsza-polka-mieszka-w-lublinie-dzisiaj-swietowala-111-urodziny,n,1000188333.html
6. Lublin.eu (17.10.2016) https://lublin.eu/mieszkancy/seniorzy/aktualnosci/najstarsza-polka-i-lublinianka-skonczyla-111-lat,165,1521,1.html
7. Gwarek (29.08.2017) "Na tropie najstarszego na świecie" https://gwarek.com.pl/gwarek/artykul/na-tropie-najstarszego-na-wiecie
8. Gliwice.eu (15.06.2018)  Wszystkiego, co najlepsze Pani Teklo! | Miasto Gliwice: https://gliwice.eu/fr/node/32694
9. WPWiadomości (28.03.2018) "Oto lista najstarszych Polaków. "71 osób, a każdy ma ten sam sposób na długowieczność" : https://wiadomosci.wp.pl/oto-lista-najstarszych-polakow-71-osob-a-kazdy-ma-ten-sam-sposob-na-dlugowiecznosc-6235050858755713a
10. Gazeta Wyborcza (09.08.2018) "Życie zaczyna się po setce. Kim są, co robią, z czego żyją najstarsi Polacy i Polki" : http://wyborcza.pl/7,87648,23768319,zycie-zaczyna-sie-po-setce-kim-sa-co-robia-z-czego-zyja-najstarsi.html
11. Wprost (20.08.2019): https://www.wprost.pl/edukacja/10147189/polskie-superstulatki-jaka-jest-recepta-na-dlugowiecznosc.html
12. Silesia.24 (11.06.2019): https://silesia24.pl/wiadomosci/szczegoly/usmiech-i-jeszcze-raz-usmiech-recepta-na-dlugowiecznosc-prosto-z-gliwic-1165
13. Gwarek (14.06.2019): https://gwarek.com.pl/gwarek/artykul/pani-tekla-obchodzia-113-urodziny
14. Dziennik Zachodni (15.06.2019): https://plus.dziennikzachodni.pl/pani-tekla-z-gliwic-to-najstarsza-polka-wlasnie-skonczyla-113-lat/ar/c1-14199063
15. https://wybory.gov.pl/sejmsenat2019/pl/wyniki/kandydat/1301566/sejm/okr/29
Community content is available under
CC-BY-SA
unless otherwise noted.