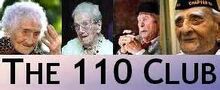 The 110 Club is an internet discussion forum about supercentenarians that was founded on 13 September 2007 by Ben Meyers and Keith Cody. It is currently the most popular discussion forum about supercentenarians on the Internet. There are currently five main administrators: Ben Meyers, Ryoung122 (Robert Young), CalvinTy (Mark Muir), Baxi, and Ale76 (Alessandro). As of 2016, the current group of moderators are davzar, Donovan, TML, Fiskje88, Baxi, Keith, GreekSupercentenarian, and Waenceslaus.
On 13 September 2017, the 110 Club celebrated its 10th anniversary.
The forum can be found on the following link:
Prior to 2018, its URL was:
http://z3.invisionfree.com/The_110_Club/index.php
Like on Facebook:
Community content is available under
CC-BY-SA
unless otherwise noted.