m

Line 3:
Line 3:
 

|status = living-unverified

 

|status = living-unverified

 

|image = Tava Colo.jpg

 

|image = Tava Colo.jpg

−

|caption = Tava in October 2017

+

|caption = Tava in October 2017

 

|sex = Female

 

|sex = Female

 

|nationality = Mayotte

 

|nationality = Mayotte

Line 13:
Line 13:
 

'''Tava Colo''' (born 22 December 1902?) is a longevity claimant whose age is currently unvalidated by the [[Gerontology Research Group]] (GRG). If her age is true, she is the oldest living French person and 5th oldest living person.

 

'''Tava Colo''' (born 22 December 1902?) is a longevity claimant whose age is currently unvalidated by the [[Gerontology Research Group]] (GRG). If her age is true, she is the oldest living French person and 5th oldest living person.

 
 
−

She lives on the island of Mayotte, an overseas department of France.

+

lives on the island of Mayotte, an overseas department of France.

 
 
 

==Biography==

 

==Biography==
---
Revision as of 21:58, 23 December 2017
Tava Colo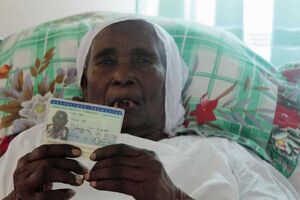 Tava Colo in October 2017
Unvalidated
Tava Colo (born 22 December 1902?) is a longevity claimant whose age is currently unvalidated by the Gerontology Research Group (GRG). If her age is true, she is the oldest living French person and 5th oldest living person.
Colo lives on the island of Mayotte, an overseas department of France.
Biography
According to her identity card, she was born on 22 December 1902 in Mamoudzou, Mayotte. She had two daughters with her first husband (both deceased as of October 2017). She also have 9 grandchildren (oldest one was born in 1949 and the youngest in 1971), 40 great-grandchildren and 53 great-great-grandchildren who comes to visit her regularly. Her granddaughters, who affectionately nicknamed her "coco" ("grandmother" in the local language), says that she had several husbands but that she divorced if they disagreed with her children. She is bedridden since 2010.
In September 2017, she was visited by Agnes Buzyn, Minister of and Health. When she was asked to reveal her secret of longevity, she replied simply "that it must be respectful of all, small and great, and always take care of yourself, be very clean".
Tava Colo currently resides with one of her granddaughters in Passamainty, her native village, located in the commune of Mamoudzou at claimed age of 118 years, 224 days.
References
Community content is available under
CC-BY-SA
unless otherwise noted.