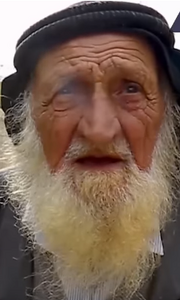 Suliman Al-Mul (born 1893 or 1898?) was a Lebanese longevity claimant. Very little is known about him other than his claim to longevity is "magic tea" with which he puts carob, thyme, quinoa, and anise in it. He lived in Heker Hanin in north Lebanon's Akkar district. However, his birth year cannot be validated as another article surfacing him, albeit his name spelled "Sleiman Al-Mal", claimed he was born in 1898, which probably made him 120 years old. He was last reported to be alive on 3 June 2018 when an article of him claimed that he was born in 1893 which made him 125 years old then.
References
WATCH: This old man from Lebanon has a 7-year-old son! (a recent article claiming him to be 125)
Video of Suliman Al-Mul at 125 Youtube
Lebanon's oldest man shares secrets to healthy life The Arab Weekly (an article from 14 August 2015, claiming his age as 117 at the time)
Community content is available under
CC-BY-SA
unless otherwise noted.