Shigeyo Nakachi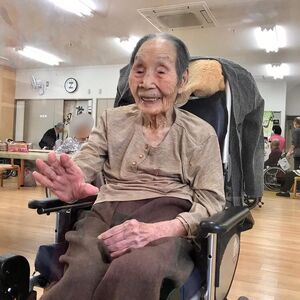 Nakachi at the age of 115 in September 2020
Validated
Shigeyo Nakachi [Japanese: 中地シゲヨ] (born 1 February 1905) is a Japanese supercentenarian who is currently the second-oldest living person in Japan, and the fifth-oldest validated person in the world, whose age is validated by the Gerontology Research Group.
Biography
Nakachi was born on 1 February 1905 in Saga, Japan, as the second of five siblings. She was an elementary school teacher for 30 years, before then becoming a kindergarten teacher, eventually retiring at the age of 62.
Nakachi fractured her femur twice in her 90s, but still lived independently until the age of 103. At the age of 108, she could walk unassisted. Nakachi enjoys hand-dancing. She is almost completely deaf. In December 2018, she recovered from a bout of aspiration pneumonia that left her bedridden and requiring a breathing tube for several days. Nakachi currently lives in Saga City, Saga Prefecture, Japan.
Longevity
Nakachi has been the oldest living person in Saga Prefecture since the death of 112-year old Nugi Ikeda on 8 June 2016. Following the death of Shin Matsushita on 27 August 2019, she became the second-oldest living person in Japan (behind Kane Tanaka) and the fifth-oldest validated living person in the world.
On 14 February 2020, Nakachi became the oldest person ever documented from Saga Prefecture after breaking the previous record of 115 years, 12 days set by Chiyono Hasegawa. After surpassing the final age of Shimoe Akiyama on 14 October 2020, Nakachi became the seventh-oldest validated person in Japanese history.
Nakachi is one of the top-30 oldest people of all-time whose age has been validated by the GRG.
Gallery
References
Community content is available under
CC-BY-SA
unless otherwise noted.