Satoru Tomizawa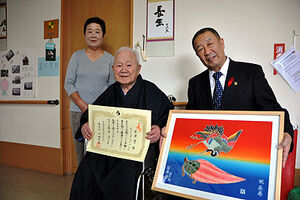 Satoru Tomizawa in September 2011.
Unvalidated
Satoru Tomizawa [Japanese: 冨澤覺] (10 March 1905- fl.2015) was a Japanese supercentenarian.
Satoru lives in Kamogawa, Chiba Prefecture. He was the oldest living man in Chiba Prefecture and the sixth-oldest living man (citation needed). He was also the second-oldest living person in Chiba Prefecture, after Anonymous of Chiba.
The Ministry of Health, Labor, and Welfare, Japan reported on 15 December 2016 that Masazo Nonaka was now Japan's oldest living man, which confirms that Satoru Tomizawa either is deceased or moved away from Japan.