(Adding categories)

Line 15:
Line 15:
 

Satoru lives in Kamogawa, Chiba Prefecture. He is the oldest living man in Chiba Prefecture and the sixth-oldest living man (citation needed). He is also the second-oldest living person in Chiba Prefecture, after [[Anonymous of Chiba]].

 

Satoru lives in Kamogawa, Chiba Prefecture. He is the oldest living man in Chiba Prefecture and the sixth-oldest living man (citation needed). He is also the second-oldest living person in Chiba Prefecture, after [[Anonymous of Chiba]].

 

[[Category:Living people]]

 

[[Category:Living people]]

 
+

[[Category:Limbo cases]]
---
Revision as of 19:47, 29 October 2016
Satoru Tomizawa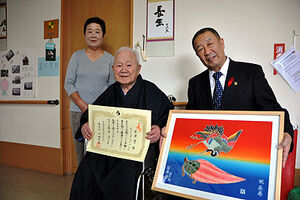 Satoru Tomizawa in September 2011.
Unvalidated
Satoru Tomizawa [Japanese: 冨澤覺] (born 10 March 1905) is a Japanese supercentenarian.
Satoru lives in Kamogawa, Chiba Prefecture. He is the oldest living man in Chiba Prefecture and the sixth-oldest living man (citation needed). He is also the second-oldest living person in Chiba Prefecture, after Anonymous of Chiba.