Line 13:
Line 13:
 

'''Satoru Tomizawa''' [Japanese: '''冨澤覺'''] (born 10 March 1905) is a Japanese [[supercentenarian]].

 

'''Satoru Tomizawa''' [Japanese: '''冨澤覺'''] (born 10 March 1905) is a Japanese [[supercentenarian]].

 
 
−

Satoru lives in Kamogawa, Chiba Prefecture. He is oldest living man in Chiba Prefecture and 6th oldest living man. He is also 2nd oldest living person in Chiba Precture, after [[Anonymous of Chiba]].

+

Satoru lives in Kamogawa, Chiba Prefecture. He is oldest living man in Chiba Prefecture and 6th oldest living man. He is also 2nd oldest living person in Chiba , after [[Anonymous of Chiba]].

 

[[Category:Living people]]

 

[[Category:Living people]]
---
Revision as of 17:01, 3 June 2016
Satoru Tomizawa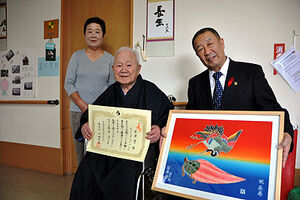 Satoru Tomizawa in September 2011.
Unvalidated
Satoru Tomizawa [Japanese: 冨澤覺] (born 10 March 1905) is a Japanese supercentenarian.
Satoru lives in Kamogawa, Chiba Prefecture. He is oldest living man in Chiba Prefecture and 6th oldest living man. He is also 2nd oldest living person in Chiba Prefecture, after Anonymous of Chiba.