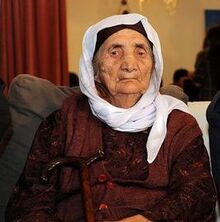 Sabria Khalaf (1 January 1907 – fl. 1 January 2015) was an Syrian-German centenarian who claimed to be the world's oldest living refugee. Sabria Khalaf claimed to have been born on 1 January 1907 in the North East of Syria. She or her family claimed a age of 107 years and the status of the oldest refugee in the world, but no birthdate is given. She is a Kurd and Yezidi faith. There should 70 family member of her live in Holdorf. She passed away after 1 January 2015 at the age of at least 108 years, 0 days.
References
Community content is available under
CC-BY-SA
unless otherwise noted.