Rosalia Spoto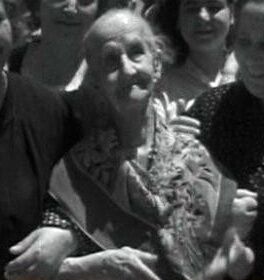 Disputed
Rosalia Spoto (25 August 1847? [claimed 24 May 1847] – 20 February 1957) held the title of world's oldest living person from the death of Betsy Baker on 24 October 1955 until her own death on 20 February 1957, aged 109 years, 179 days.[1]
Spoto claimed her birthday was on 24 May. For her claimed 109th birthday, an Italo-Brazilian wrote her a letter stating he had requested others to send her packages of coffee (citation needed). 25 August is from Guinness World Records.
Upon her death, Christina Karnebeek-Backs became the world's oldest validated living person.
Issues regarding age
Some sources, such as the GRG-affiliated Supercentenari d'Italia, do not recognize Spoto's claim as legitimate. GWR support for the case was officially withdrawn Aug 29 2017 with the release of GWR 2018.
References
Community content is available under
CC-BY-SA
unless otherwise noted.