Ottilie Diering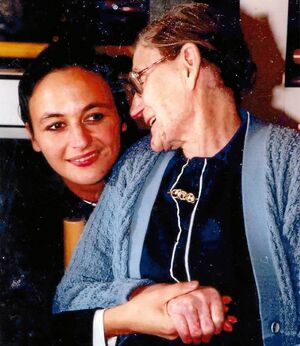 Ottilie Diering in her centenarian years.
Unvalidated
Ottilie Diering (9 July 1907 – 2017) was a German supercentenarian whose age is currently unvalidated by the Gerontology Research Group (GRG). She was one of the top 15 oldest known living people in Germany.
Biography
Ottilie Diering was born on 9 July 1907 in Schwerin, Mecklenburg-Vorpommern, Germany. She had at least four siblings: Johann, Helene, Anna and Gertrud. She worked on her family's farm during her childhood. She later moved to what used to be Schwerin an der Warthe, which is now Skwierzyna, Lubusz, Poland.
In 1948, Helene passed away, leaving behind her two young children, Hildegard and Alfred, whom Ottilie and her two sisters, Anna and Gertrud, looked after. Hildegard later became a nurse and Alfred joined the military. Anna died in 1989, the first of the three aunts (as they were known by Hildegard and Alfred) to do so.
On 15 January 1994, aged 86, Ottilie and her sister Gertrud moved into a nursing home, where she has lived ever since. In 2007, 13 years later, Gertrud also passed away, leaving Ottilie as the last surviving aunt out of the three.
On her 109th birthday in 2016, Ottilie was asked her secret to a long life. The manager of her nursing home, Jutta Konig, said: "Mrs Diering, as a Catholic, has an extremely deep faith in God, which is her recipe, her whole life is in God's hands."
Ottilie Diering passed away sometime between 9 July and 31 December 2017 in Neuruppin, Brandenburg, Germany, at the age of 110.
References