Mollie Beard


Birth:
4 May 1893
Millen, Georgia, USA
Death:
3 September 2003
Los Angeles, California, USA
Age:
110 years, 122 days
Country:
USA
Validated
Mollie Beard (née Saxon; 4 May 1893 – 3 September 2003) was an American supercentenarian whose age is validated by the Gerontology Research Group (GRG).
Biography
Mollie Beard was born Mollie Saxon on 4 May 1893 (The family had believed for some time that Mollie was born on 4 May 1892; but the 1900 US Census says 1893 and the 1910 Census confirms this date) in a plantation in Millen, Georgia to parents Edward Saxon, a soldier of the Confederacy and Susan (née Sharpe) Saxon. She had 10 siblings (9 brothers and 1 sister). She married Frank Beard and had five children (3 daughters and 2 sons). Her husband died in 1928 (murdered/shot), she never remarried.
Mollie Beard died on 3 September 2003 at the age of 110 years, 122 days. She is survived by her daughter, Eunice Brandon; her niece, Alma Saxon Warner and many nieces and nephews.
Gallery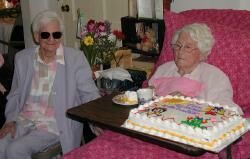 References
Community content is available under
CC-BY-SA
unless otherwise noted.