Mitsu Toshima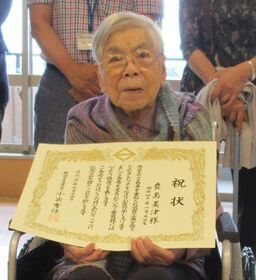 Mitsu Toshima at the age of 111.
Validated
Mitsu Toshima [Japanese: 豊島美津] (5 January 1907 – 2019/2020) was a Japanese supercentenarian whose age is validated by the Gerontology Research Group (GRG).
Biography
Mitsu Toshima was born in Japan on 5 January 1907. She lived in a care facility in Midori, Yokohama, Kanagawa, Japan, until she entered limbo between September 2019 and March 2020.
References
Community content is available under
CC-BY-SA
unless otherwise noted.