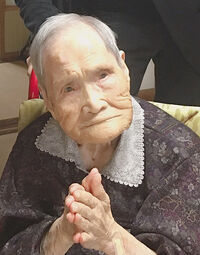 Mineno Ueda (Japanese: 上田ミ子ノ; 6 May 1909 – fl. 1 January 2020) was a Japanese supercentenarian whose age is currently unvalidated by the Gerontology Research Group (GRG).
Biography
Ueda was born in Japan on 6 May 1909. In September 2019, she was reported as the second oldest living person in Kyoto Prefecture, after Harue Kyuma.
Ueda lived Kyoto City, Kyoto Prefecture, Japan. She was last reported alive on 1 January 2020, at the age of 110 years, 240 days. On 1 April 2020, she went to limbo, since the oldest living person in Kyoto City was reported to be Iwakichi Kawabata.
References
Community content is available under
CC-BY-SA
unless otherwise noted.