Marjorie Cooke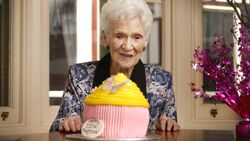 Marjorie Cooke on her 110th birthday
Unvalidated
Marjorie Cooke (5 January 1906) is a Australian supercentenarian who is the oldest living person in Australia, following the death of Welsh-born Australian Mary Whitehurst on 2 January 2017. Her age and date of birth have been confirmed and she is listed on Wikipedia, (List of Australian supercentenarians) with online citations. She is one of five living supercentenarians from Australia
Biography
Born in Albert Park, Melbourne, Australia, Marjorie married an opera singer and radio announcer, Keith Cooke, both worked variously in real estate. They had two sons, Lyell (now aged 85) and John (now aged 72). The couple spent many happy times travelling the world. In 1950s and 1960s they spent 6 months in Europe and trips to Lebanon, United States, Persia, Iran and Pakistan.
Today she lives at the residential retirement home BlueCross Cresthaven in East Malvern, Melbourne, Australia.
References
Community content is available under
CC-BY-SA
unless otherwise noted.