Marjorie Cooke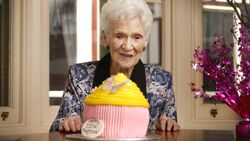 Marjorie Cooke on her 110th birthday
Unvalidated
Marjorie Cooke (born 5 January 1906) is a Australian supercentenarian who is the oldest living person in Australia, following the death of Mary Whitehurst.
Biography
Born in Albert Park, Marjorie married an opera singer and radio announcer, Keith Cooke. They had two sons, Lyell and John. The couple spent many happy times travelling the world. In 1950s and 1960s they spent 6 months in Europe and trips to Lebanon, United States, Persia, Iran and Pakistan.
Today she lives in Melbourne, Australia.
References