Maria Tomson


Birth:
27 December 1853?
Tartumaa, Estonia
Death:
26 April 1966
Holstre, Viljandimaa, Estonia
Age:
112 years, 120 days?
Country:
EST
Unvalidated
Maria Tomson (née Geelman; 27 December 1853? – 26 April 1966) is said to be an Estonian supercentenarian.
Biography
Maria Tomson is thought to be the oldest Estonian person on record. She lived to the claimed age of 112 years, 120 days. Her age has not been verified by an international body. If her age were to be verified, she would have been the oldest living person from the death of Swedish 109-year-old Lovisa Svensson on 17 February 1963, until Tomson's death.[1]
When she was 110, she still did handwork, read newspapers and books, and helped her daughter managing the household. The newspaper Rahva Haal wrote on her 110th birthday: "Maria Tomson brought up eight children, and a stepson as the ninth child. She has still never needed a doctor, she has been ill just once, 70 years ago." [2][3] [4]
Gallery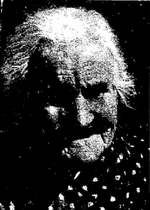 References