Line 23:
Line 23:
 

[[Category:United States births]]

 

[[Category:United States births]]

 

[[Category:Living people]]

 

[[Category:Living people]]

 
+

[[Category:2019 deaths]]

 
+

[[Category:United States deaths]]

 
+

[[Category:New York deaths]]
---
Revision as of 10:57, 30 December 2019
Mamie Kirkland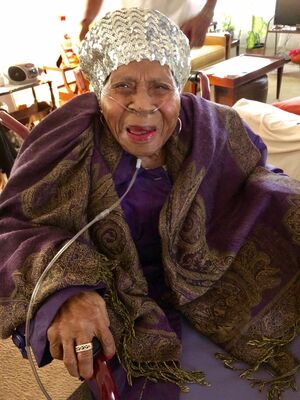 Mamie Kirkland on her 111th birthday.
Unvalidated
Mamie Kirkland (3 September 1908 - 28 December 2019) was an American supercentenarian whose age is currently unvalidated by the Gerontology Research Group.
Biography
Mamie Kirkland was born in Ellisville, Mississippi, USA on 3 September 1908. In her 110th birthday, she has five living children, 20 grandchildren, 33 great-grandchildren, 83 great-great-grandchildren and 22 great-great-great-grandchildren.
Mamie Kirkland died in Buffalo, New York, USA, on 28 December 2019 at the age of 111.
References