Mabel Jenkins



Mabel Jenkins on her 110th birthday with Tim Macindoe MP

Birth:
23 September 1908
Auckland, New Zealand
Death:
7 July 2019
Hamilton, New Zealand
Age:
110 years, 287 days
Country:
NZL
Unvalidated
Bertha Mabel Jenkins (née Carr; 23 September 1908 – 7 July 2019) was a New Zealand supercentenarian whose age is currently unvalidated by the Gerontology Research Group. She was the oldest known person living in Oceania since the death of Linda Wiggins on 2 December 2018.
Biography
Bertha Mabel Carr was born to Edith and George Edwin Carr in Auckland, New Zealand.
She and her husband Laurie Jenkins moved to Hamilton, New Zealand in 1937, where he opened a menswear store. The couple had two sons, Neil Olsen and Ross Albert. They lived in some rented houses before building a couple of their own. Laurie died in the mid-1990s.
In her later life, Jenkins lived in Hamilton, New Zealand. A supporter of the National Party, she met party leader and Prime Minister John Key in July 2015. She became a supercentenarian in September 2018, and was visited by local Member of Parliament Tim Macindoe on her 110th birthday.
Following the death of 110-year old Linda Wiggins, who was six days older, Jenkins became the oldest living person in New Zealand and Oceania. She passed away on 7 July 2019 at the age of 110 years, 287 days.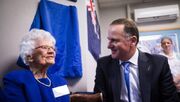 References