This is a list of supercentenarians born in 1880. As of 15 October 2021, 27 of them have been validated by the Gerontology Research Group (GRG).
Two people is currently pending as of January 2015, which means that there is sufficient evidence to support the claims, but the validation process has not yet been completed.
There are nine additional cases on the list for which research has been made, but whose claims have not yet been reviewed and processed by the GRG. This category is referred to as "unvalidated".
Cohort extinction took place on 30 December 1999 when Sarah Knauss of United States passed away at the age of 119 years, 97 days.
List
      Validated       Pending       Unvalidated
| Rank | Name | Sex | Birth | Death | Age | Country |
| --- | --- | --- | --- | --- | --- | --- |
| 1 | Sarah Knauss | F | 24 Sept 1880 | 30 Dec 1999 | 119 years, 97 days | USA |
| 2 | Marie-Louise Meilleur | F | 29 Aug 1880 | 16 Apr 1998 | 117 years, 230 days | CAN |
| 3 | Hide Ohira | F | 15 Sept 1880 | 9 May 1995 | 114 years, 236 days | JPN |
| 4 | Wilhelmina Kott | F | 7 Mar 1880 | 6 Sept 1994 | 114 years, 183 days | USA |
| 5 | Zora Wriggle | F | 24 Feb 1880 | 7 Nov 1993 | 113 years, 256 days | USA |
| 6 | Daisy Adams | F | 30 June 1880 | 8 Dec 1993 | 113 years, 161 days | UK |
| 7 | Frederick Frazier | M | 27 Jan 1880 | 14 June 1993 | 113 years, 138 days | USA |
| | Annie Burtt | F | 5 July 1880 | 11 Dec 1992 | 112 years, 159 days | CAN |
| 8 | Maude Ross | F | 13 Jan 1880 | 9 June 1992 | 112 years, 148 days | USA |
| 9 | Antoinette Huber | F | 22 Jan 1880 | 1 Mar 1992 | 112 years, 39 days | USA |
| 10 | Anna Shively | F | 14 May 1880 | 7 June 1992 | 112 years, 24 days | USA |
| | Bertha Herring | F | 20 Dec 1880 | 2 Jan 1993 | 112 years, 13 days | USA |
| 11 | Katie Brown | F | 1 May 1880 | 29 Apr 1992 | 111 years, 364 days | USA |
| 12 | Ada Van Natta | F | 30 Nov 1880 | 14 Nov 1992 | 111 years, 350 days | USA |
| 13 | Adeline Robeson | F | 20 Sept 1880 | 18 Aug 1992 | 111 years, 333 days | USA |
| | Bertie Thierry | F | 22 Apr 1880 | 8 Feb 1992 | 111 years, 292 days | USA |
| | Misao Kaya | F | 13 Dec 1880 | 29 Aug 1992 | 111 years, 260 days | JPNUSA |
| | Emma Still | F | 21 Aug 1880 | 6 Apr 1992 | 111 years, 249 days | USA |
| | Margaret Hegarty [1] | F | 2 Apr 1880 | 14 Nov 1991 | 111 years, 240 days | IRLUSA |
| | Jeanie Oliver | F | 17 Aug 1880 | 1 Mar 1992 | 111 years, 197 days | UK USA |
| 14 | Ethel Lyman | F | 8 June 1880 | 9 Dec 1991 | 111 years, 184 days | CAN |
| 15 | Lillie Dorough | F | 12 Sept 1880 | 6 Mar 1992 | 111 years, 176 days | USA |
| | Alice Meeder | F | 29 Sept 1880 | 20 Oct 1991 | 111 years, 21 days | USA |
| 16 | Domenico Minervino | M | 10 May 1880 | 21 May 1991 | 111 years, 11 days | ITA |
| 17 | Percie Ryan | F | 24 May 1880 | 4 May 1991 | 110 years, 345 days | USA |
| 18 | Claudia Brown | F | 25 Nov 1880 | 12 Sept 1991 | 110 years, 291 days | USA |
| 19 | Kate Jones | F | 3 Apr 1880 | 22 Dec 1990 | 110 years, 263 days | UK |
| 20 | Mary Hurley | F | 4 May 1880 | 16 Nov 1990 | 110 years, 196 days | AUS |
| 21 | Florence Brownell | F | 13 Mar 1880 | 10 Sept 1990 | 110 years, 181 days | USA |
| | Lorena Anderson | F | 5 June 1880 | 5 Nov 1990 | 110 years, 153 days | USA |
| 22 | Eleonora Prunetti | F | 7 Oct 1880 | 20 Feb 1991 | 110 years, 136 days | ITA |
| | Edith Francis | F | 20 Mar 1880 | 28 July 1990 | 110 years, 130 days | JAM |
| 23 | Lucia Ceravola | F | 17 Oct 1880 | 10 Jan 1991 | 110 years, 85 days | ITA |
| | Ida Vincent | F | 5 Sept 1880 | 12 Nov 1990 | 110 years, 68 days | USA |
| 24 | Caroline May | F | 4 Sept 1880 | 16 Oct 1990 | 110 years, 42 days | USA |
| 25 | Frances Spickard | F | 5 Apr 1880 | 14 May 1990 | 110 years, 39 days | USA |
| | Emily Currey | F | 16 July 1880 | 24 Aug 1990 | 110 years, 39 days | AUSCAN |
| 26 | Mabel Magner | F | 30 May 1880 | 17 June 1990 | 110 years, 18 days | USA |
| 27 | Robert Freeman | M | 22 Dec 1880 | 24 Dec 1990 | 110 years, 2 days | USA |
Graph
Please update (Antoinette Huber 112 validated)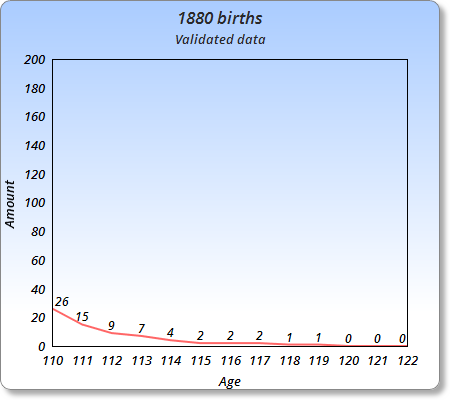 References