This is a list of supercentenarians born in 1870. As of 15 October 2021, 12 of them have been validated by the GRG. One person is pending as of March 2015
There are 3 additional cases for which research has been made, but whose claimed age has not yet been reviewed and processed by GRG. This category is referred to as "unvalidated".
Cohort extinction took place on 16 February 1985 when Mathew Beard of the United States passed away at the age of 114 years, 222 days.
List
      Validated       Validated (disputed)       Unvalidated
| Rank | Name | Sex | Birth | Death | Age | Country |
| --- | --- | --- | --- | --- | --- | --- |
| 1 | Mathew Beard | M | 9 July 1870 | 16 Feb 1985 | 114 years, 222 days | USA |
| 2 | Emma Wilson | F | 12 May 1870 | 13 Oct 1983 | 113 years, 154 days | USA |
| 3 | Mary Phil Cota | F | 5 July 1870 | 22 July 1982 | 112 years, 17 days | USA |
| | Antonia Diaz Garcia | F | 11 May 1870 | 13 Sept 1981 | 111 years, 125 days | ESP |
| | Sue Blanton | F | 3 Feb 1870 | 14 Apr 1981 | 111 years, 70 days | USA |
| | Jennie Worden | F | 30 Dec 1870 | 19 Feb 1982 | 111 years, 51 days | USA |
| 4 | Ramona Agudin-Fernandez | F | 9 Mar 1870 | 12 Jan 1981 | 110 years, 309 days | ESP |
| 5 | Bettie Bookout | F | 27 July 1870 | 17 Feb 1981 | 110 years, 205 days | USA |
| 6 | Gerarda Hurenkamp-Bosgoed | F | 5 Jan 1870 | 25 May 1980 | 110 years, 141 days | NED |
| 7 | Elisa Esnault | F | 10 Dec 1870 | 25 Apr 1981 | 110 years, 136 days | FRA |
| 8 | Charlie Phillips | M | 5 May 1870 | 5 Sept 1980 | 110 years, 123 days | USA |
| 9 | Alice Empleton | F | 11 Sept 1870 | 7 Jan 1981 | 110 years, 116 days | UK |
| 10 | Mary Snyder | F | 6 Feb 1870 | 13 Apr 1980 | 110 years, 67 days | USA |
| 11 | Addie Bess | F | 17 Apr 1870 | 2 June 1980 | 110 years, 46 days | USA |
| | Sarah Smith | F | 1 Jan 1870 | 10 Jan 1980 | 110 years, 9 days | USA |
| 12 | Mary Morrison | F | 7 Dec 1870 | 15 Dec 1980 | 110 years, 8 days | USA |
Graph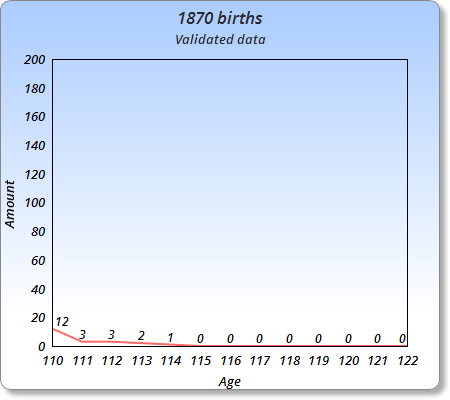 References