Kuo-Ying Feng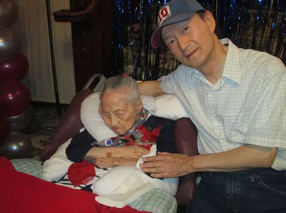 Kou at claimed 113th birthday
Unvalidated
Kuo-Ying Feng (12 May 1902? - fl. 12 May 2015) was a Chinese-American supercentenarian who is currently unverified. Her case status is in "limbo", with no confirmation of survival within the past two years.
Biography
Kuo claimed to have been born on 12 May 1902 in Shanghai, China. Feng lived through World War II and the Chinese Civil War in China. She is a mother of nine who lost two of her children during the Chinese Civil War. She moved to Queens in the 1950s where she opened a Chinese restaurant with her husband. Feng's husband died at 54.
She lived in New York, United States. She was last reported to be alive in 12 May 2015 when articles which proclaimed Goldie Steinberg to be the oldest woman living in the USA then mentioned a claimant by a 114-year-old New York resident.
References
Community content is available under
CC-BY-SA
unless otherwise noted.