Katherine Bodenbender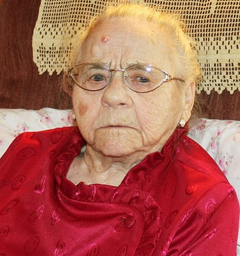 Katie Bodenbender in 2013.
Validated
Katherine Bodenbender (née Zschocke; 19 April 1905 – 16 April 2017) was a German-American supercentenarian who is officially validated.
Biography
Katherine "Katie" Bodenbender was born as Katherine Zschocke in Marburg, Germany to Otto and Christine Kleg Zschocke and emigrated to USA in 1930. She settled in Moline, Illinois and married her husband Henry Bodenbender the following year. The couple raised four children together. She was widowed in 1977.
Katherine Bodenbender lived in Moline, Illinois, until her death on 16 April 2017 at the age of 111 years, 362 days.
References
Gallery
Community content is available under
CC-BY-SA
unless otherwise noted.