Karolina Kruger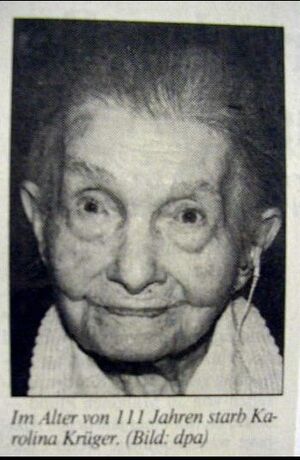 Validated
Karolina Kruger [German: Krüger; alternative spelling Krueger] (17 February 1885 – 3 July 1996) was a verified German supercentenarian who, at the time of her death at the age of 111 years, 137 days, was the oldest living person in Germany.
Biography
Karolina Kruger was born in Zurlauben, Germany on Feb. 17, 1885. She became the oldest living person in Germany after the passing of 109-year old Ottilie Aleith. She was succeeded as German oldest person by Pauline Spyra .
Reference
Community content is available under
CC-BY-SA
unless otherwise noted.