Kaoru Ueda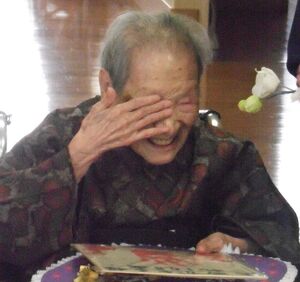 Kaoru Ueda at the age of 108.
Unvalidated
Kaoru Ueda (born 10 January 1907) is a Japanese supercentenarian whose age is currently unvalidated by the Gerontology Research Group (GRG). She is the oldest known living person in Osaka Prefecture, Japan.
Biography
Kaoru Ueda was born on 10 January 1907 in Japan. In September 2017, she was reported as the oldest living person in Osaka Prefecture, meaning Etsu Nishiura goes to limbo, as she was not reported.
Kaoru Ueda currently lives in Osaka City, Osaka Prefecture, Japan, at the age of 114 years, 161 days.
References
This is a stub starter, designed to be the starting point for further expansion on this article.
Community content is available under
CC-BY-SA
unless otherwise noted.