Jordelino Cardoso


Birth:
14 March 1907
, Brazil
Death:
11 June 2019
, Brazil
Age:
112 years, 89 days
Country:
BRA
Unvalidated
Jordelino Cardoso (14 March 1907 – 11 June 2019) was a Brazilian supercentenarian claimant whose age is currently unvalidated by the Gerontology Research Group (GRG).
Biography
He was born on March 14, 1907, in Laurentino, thus ten years before the date that was established to be the beginning of the settlement of Taió. Personal tragedies seem to have shaped the long life of this man who has reached 112 years of age as steel.
Only two years old he was orphaned, and his mother, Dona Francisca Pinto, daughter of Zelindo Pinto, died. that frightened child saw the mother's body being carried upstream, from canoe to burial in the Bugiu bar in Anta Gorda, Rio do Oeste.
To take care of the children: Jordelino, Maria and José, the father married with Virginia of the Saints and other children came: John, Arvelino, Dorvalino, Alexander, Arventino, Rose and Doralícia.
The couple and their children lived in Laranjeiras, in the district of Passo Manso, where another tragedy struck the family: Jordelino saw the murder of his father, Manoel Cardoso, shot dead inside João Catarina's house. It was a very different time, and there was a serious conflict between the Cardoso and the powerful Colett family of Curitibanos over the payment of their land.
Taió was being born, and Jordelino saw the arrival of 16 oxen, bringing the families of Tubarão. Worked with Manoel Largura and Bonifácio Carrara when single. Later he was a carter of João Bertoli, Julio Pretti, Walmor Heidrich and Hercílio Anderle, he took care of sawmills, sassafras oil factory, but he really liked being a cattle trooper.
At the age of 20, she married Maria Pereira, (from Torres / RS) with whom she had five children and died. He moved to Lebon Regis, where he was a trooper, leading the troops to Marilia / São Paulo, lasting 120 days.
He then returned to Passo Manso, married Ponciano Félix Leite's daughter, with whom he had 13 children.
In 2017, on the occasion of the centenary of the colonization of Taió, the Council of Councilors of Taió paid tribute to several people, among them Jordelino Cardoso.
Gallery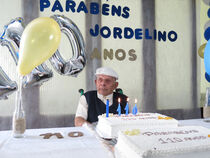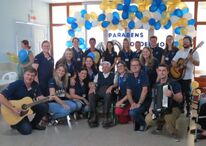 Reference