Jane Young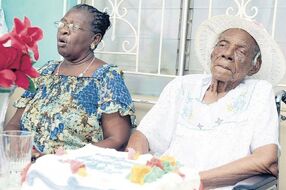 Jane (right) with her adopted daughter
Longevity claimant
Jane Leanora Young (née Smith; born 22 June 1901) is a Jamaican supercentenarian who is currently unverified.
Biography
Jane was born in Milk River, Clarendon, Jamaica on 22 June 1901 to Alexander Smith and Johanna Dawkins. She was baptised in her centenarian years. She was a member of Sabbath Church and the Church of England. Jane says that she had good childhood when she was growing up with both her parents, who were themselves strict disciplinarians. Jane worked as a farmer and was considered the richest woman in the district of Sedge Pond in Clarendon where they lived at the time. She married Robert Nathaniel Young on 24 November 1946 in Clarendon, Jamaica. They had just one adopted child, Veronica Thompson.
References
Community content is available under
CC-BY-SA
unless otherwise noted.