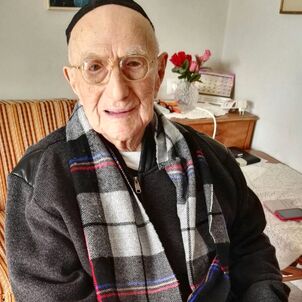 Israel (also transliterated "Yisrael") Kristal (born September 15, 1903) is a verified Polish-born Israeli supercentenarian who has been recognised as the World's Oldest Man since the death of Yasutaro Koide of Japan on January 19, 2016. He is also the oldest living Holocaust survivor.[1]
Biography
Kristal was born in the village of Malenie near Zarnow (Pol. Żarnów), Russian Empire (now Poland), on September 15, 1903. Now, the village is part of Lodz Voivodeship. His mother died when he was young. His father was drafted during World War I and young Israel was forced to work hard to make a living. Due to the War, he never had a Bar Mitzvah.
In 1920, he moved to Lodz. He married in 1928 at the age of 25. Together with his wife, they ran a confectionary factory. After the outbreak of World War II, Lodz became occupied by the Germans. In 1940, the Kristal family was forced by the Nazis to move into a special Jewish district called the Litzmannstadt Ghetto. Yisrael Kristal lived in the ghetto between 1940-1944. His first wife and their two children died in the Holocaust. In 1944, Yisrael Kristal was deported to the Auschwitz-Birkenau concentration camp. Later, he was a prisoner of a few other labour camps and, was finally freed in May 1945. He returned to Lodz and restarted his confectionery business, married again and had a son. In 1950, the family left Poland and settled in Haifa, Israel, where he lives currently.[2][3][4]
He was internationally recognized as the oldest living Holocaust survivor in 2014, upon the passing of Alice Herz-Sommer of London (although he was in fact older than her at the time), United Kingdom. He was officially recognized as the world's oldest man by Guinness World Records on March 11, 2016.[5]
References