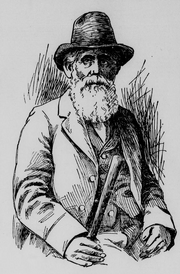 Isaac Brock (claimed birth 1787/more likely 1805-1812-September 3, 1909) was an alleged supercentenarian, the subject of news coverage in the United States in the late 19th and early 20th century due to his claims of longevity. According to varying claims, and his gravestone, he was born on March 1, 1787, which would have made him 122 years and 164 days at the time of his death.[1][2][3]
Brock claimed to have been born on March 1, 1788 (or 1787) in Buncombe County, North Carolina, fought in the War of 1812, and then moved to Georgia before eventually moving to Texas, heading up an armory for the South in the American Civil War, and ending up in Valley Mills in McLennan County.[4]
In his last years, advertisements featured Brock as crediting the patent medicine of Peruna for his longevity.[2][5][6]
His age at the time of his death was in some dispute, as his obituary in the Waco Semi-Weekly Tribune said: "How old was he. We do not know and we doubt if any one knew with exactness."[7]
Despite the claims of very advanced age, occasionally celebrated in modern press coverage in Texas, Brock was more likely born around 1805. U.S. census reports from 1880 and 1860 put his birth around 1805 or 1812 respectively.[1][3]
References
↑ 1.0 1.1 (6 February 2010). The legend of Isaac Brock: Was Waco man the oldest person who ever lived?, Waco Tribune
↑ 2.0 2.1 (11 January 1908). The Oldest Man in America, Marion Daily Mirror
↑ 3.0 3.1 Biffle, Kent (11 November 1985). For A Record On Age, Who Else But A Texan?, Sun Sentinel (story from Dallas Morning News)
↑ (15 December 1898). May Live in Three Centuries, Los Angeles Herald
↑ Presidential Address, North American Journal of Homoeopathy, May 1906, p. 287 (stating that Brock was essentially duped into the endorsement)
↑ (30 March 1902). Veteran Brock a Centenarian, Los Angeles Herald
↑ (8 September 1909). Isaac Brock Passes Away, Waco Semi-Weekly Tribune
Community content is available under
CC-BY-SA
unless otherwise noted.