Irene Dunham



Dunham at the age of 109 in May 2017

Birth:
16 December 1907
Bath, Michigan, USA
Age:
113 years, 180 days
Country:
USA
Validated
Irene Dunham (née Babcock; born 16 December 1907) is an American supercentenarian who is the oldest known person living in the US state of Michigan. She is also a survivor of the 1927 Bath School Bombing, having not attended school on the day of the disaster. Dunham's age has been validated by the Gerontology Research Group.
Early Life
Dunham was born Irene Babcock on 16 December 1907 to Duane and Mabel (Whitney) Babcock. She grew up on a farm located four miles from Bath, Michigan. She was the eldest of either eight or nine children (sources differ). She began attending Bath Consolidated School in seventh grade.
Bath School Bombing
On 18 May 1927, Dunham, then aged 19, took a day off school due to a sore throat. That day, school board trustee Andrew Kehoe had planted 1000lbs of dynamite in the basement of the building, which exploded, killing 38 schoolchildren and six adults, and injured at least 58 other people. After the explosion that morning, he parked his truck, loaded with more explosives, in front of what was left of the building. He detonated the vehicle, killing himself, the school superintendent, two adults, and a child.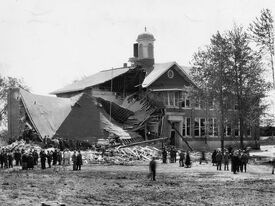 Dunham and her mother heard the explosion, then got in their car and drove to see what it was. They arrived to find the north wing of the school in a pile of rubble. Several of Dunham's siblings were in the school at the time of the explosion. Her sister Eva jumped out of a first-floor window with some classmates to escape, and her brother, Lloyd, lost a finger in the explosion.
Shortly after the bombing, she married Laurits Dunham. The ceremony had been planned before the attack. She continued with school later that year, with classes being held in various places in the town, such as a drug store. She eventually received her diploma 50 years later when Bath High School's 1977 graduating class invited the 1927 senior class to their ceremony.
Later Life
Dunham's husband Laurits died in 1972. They had a daughter Lorraine and at least two sons, one of whom is deceased. Dunham has nine grandchildren, 19 great-grandchildren, and 23 great-great-grandchildren. She survived a bout of colon cancer, surprising her doctors.
Dunham only stopped driving when she was 106. In June 2020, at the age of 112, she moved into an assisted living facility in Lansing, Michigan, having previously lived in the same house for 85 years. As of December 2020, one of Dunham's brothers was still living at the age of 101.
Between January and March 2021, Dunham got vaccinated against Covid-19, making her one of the oldest people to receive the vaccine. Following the death of Ellen Goodwill on 2 March 2021, she became the oldest living person in Michigan.
Gallery
References
Community content is available under
CC-BY-SA
unless otherwise noted.