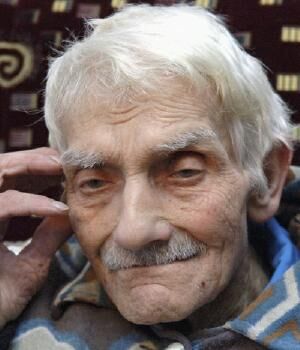 Hryhoriy Nestor (Ukrainian: Григорій Дмитрович Нестор; also Grigory Nestor) (15 March 1891? or 1 July 1911 – 14 December 2007) - is an unvalidated Ukrainian supercentenarian. He claimed to be the oldest man in the world. At the time of his death, he would have been 116 years old, if his age were verified, an age that only one man, Jiroemon Kimura, has verifiably reached.
Biography
Nestor claimed to have been born on 15 March 1891 in Western Ukraine, and at his death resided in Stariy Yarychiv in the Kamianka-Buzka region of Lviv Oblast.
He never married, and claimed that this was one of the secrets of his longevity. He never fell ill, never took medicines and although he said that one of his lifelong passions was drinking vodka, he never drank alcohol in large amounts.
At the time, Nestor's relatives were in the process of applying to Guinness World Records for the title of the world's oldest person and oldest man. Many claims in the past have been applied, but were not accepted for lack of evidence (if sent to them at all). Nestor reportedly had original old passports from the Austrian-Hungarian Empire and the Soviet Union, major powers who occupied Western Ukraine since 1891; however, he never provided copies to Guinness, the Gerontology Research Group or even Ukrainian scientists. Note the passport shown in videos was issued by authorities after 1991, and so does not serve as proof of birth.
References
Community content is available under
CC-BY-SA
unless otherwise noted.