Hermann Dörnemann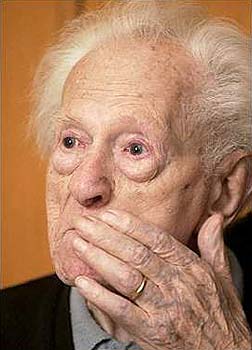 Validated
Hermann Doernemann (Dörnemann) (27 May 1893 – 2 March 2005) was a German supercentenarian who was the oldest German man ever and the oldest living person in Germany from the death of Lina Zimmer on 28 August 2004 until his own.
Biography
Dörnemann was born on 27 May 1893 in Essen, destrict Altessen as youngest of eight siblings. The family's house was connected to the power system when he was age 8. He was trained as an electro engineer. In World War I he was wounded by a shot in his upper arm. In 1922 he moved to Ratingen, later to Düsseldorf. In 1959 he retired. Dörnemann and his wife had two children. After his wife's death in 1984 he moved to his daughter. In 2003 his son passed away, too.
Being 110, Dörnemann was alert but blind since five years. He what he was sad about, seeing not his great-grandchildren. He was aware of being one of Germanys oldest living persons but mentioned also it would be a burden to become that old. He was convinced his family cared him too well when he was asked about his attitude. Dörnemann traced his longevity to having a beer every day, but also saying no to sports and drinking the water of boiled potatoes in consequence of its vitamins. He was also said to be the worldest oldest living man since the passing of 114 year-old Fred H. Hale on 21 November 2004, what was wrong when Emiliano Mercado del Toro, born 1891, was discovered.
On 2 March 2005 Dörnemann died in a hospital at age 111 years, 279 days, suffering from pneumonia. He was preceded in death by his daughter Rita, one grandchild and two great-grandchildren. New title holder was 110 year-old Frieda Müller of Potsdam.
References