Hendrikje Smit-Meijering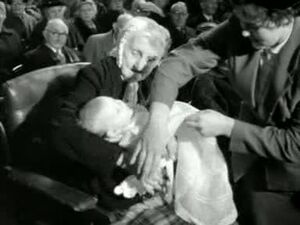 Hendrikje Smit-Meijering baptising her great-great-grandchild Richard on 9 November 1958.
Centenarian
Hendrikje "Hinderkien" Smit-Meijering (7 November 1853 - 14 January 1961) was the oldest living person in The Netherlands, following the death of 109-year-old Willem "Wilhelminus" Kostering on 9 December 1960.
Biography
Hendrikje Smit-Meijering was born in Dalen, The Netherlands, on 7 November 1853 to parents Harm Meijering and Albertje Brinks. She married Jans Smit in Emmen, Drenthe, on 27 March 1874 at the age of 20 years, with whom she would have two boys; Jannes and Harm Smit. On 9 November 1958, the Polygoon-Profilti (a Dutch newsreel) made an item about her baptising her great-great-grandchild Richard. It was one of the rare moments at the time that five generations in The Netherlands were all alive.
Mrs. Smit-Meijering passed away in Ter Apel, Groningen, The Netherlands, on 14 January 1961 at the age of 107 years, 68 days.
References