Haruno Yamashita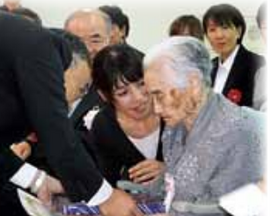 Haruno Yamashita at the age of 108.
Validated
Haruno Yamashita [Japanese: 山下ハルノ] (19 February 1905 – fl. 1 September 2019) was a Japanese supercentenarian whose age is validated by the Gerontology Research Group (GRG).
Biography
Yamashita was born in Japan on 19 February 1905. In September 2019, she was reported as the second-oldest living person in Fukuoka Prefecture, behind Kane Tanaka and third oldest living person in Japan. In June 2019, Haruno Yamashita reached the top 100 all-time validated persons rankings. She lived in Kurume, Fukuoka Prefecture.
Yamashita was last reported alive on 1 September 2019, aged 114 years, 194 days. On 1 October 2019, she went to limbo, since the oldest living person in Kurume was reported to be a 108-years-old woman. Yamashita is the oldest validated person ever to go on limbo.
References
Community content is available under
CC-BY-SA
unless otherwise noted.