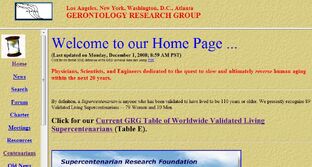 The Gerontology Research Group (GRG) was started in 1990 by Dr. L. Stephen Coles and Stephen Kaye as a group of researchers in gerontology who meet monthly at UCLA in Los Angeles, California.[1]
History
In 1995, the GRG added the GRG.org website, and in 1997 began tracking the world's oldest validated living people.
In 2000, the Gerontology Research Group became the gerontology consultant for Guinness World Records. [2][3] The group tracks people over the age of 110.[4][5]
The group was co-founded by L. Stephen Coles who is the Director and Treasurer of the Supercentenarian Research Foundation.[6] [7] The other co-founder was Steven M. Kaye.[1] Editions of the Guinness World Records through the year 2008 indicate that the the Gerontology Research Group is used as its authority for its "World's Oldest Living People" category, which the group verifies using birth and marriage certificates.[8][3][9][10]
The New York Times wrote that the GRG has been recognized as "an authority on the matter" of verifying supercentenarians.[10][11] The group started as an organization to investigate the limits of life spans in all mammalian species, and around 1998-1999 they started a committee to investigate claims to find out who was the oldest person at any point in time.[3]
As of 9 June 2016, the organization is monitoring 49 people whom they have validated as living supercentenarians, of whom 47 are female and 2 are male. This does not include additional pending claims under investigation.
Members
Current membership, which is over 500 persons, in the GRG includes:
GRG Executive Director (2014-present) Johnny Adams; GRG system operator, business administator; GRG member from 2000
Robert Young, Director, GRG Supercentenarian Research and Database Division (2015-), M.A., M.A., USA; GRG member from 1999
Dr. Aubrey DeGrey, founder of SENS, USA-UK
Hubert Warner[12]
Dr. Leonid Gavrilov (University of Chicago)[13]
Stan Primmer, M.A., USA
Peter Vermaelen, Belgium
Stefan Jamin, Germany (2008-present)
Thomas Breining, Germany
Paolo Scarabaggio, Italy (2009-present)
Dr. Luc de Lay, France
Waclaw Jan Kroczek, DMD., Poland (2013-present)
Dr. Harold Katcher, USA
Mark E. Muir, USA
Dr. Leonard Hayflick
Dr. George Church, USA
Alessandro Delucchi, Italy (2015-present)
Jennie Jimenez, Puerto Rico (2015-present)
Ricardo Pereira Lago, Brazil (2015-present)
Tiago José Soares, Brazil (2016-present)
Fabrizio Villatoro, Mexico (2020-present)
Tamas Benyei, Hungary (2020-present)
Yumi Yamamoto, Japan (2020-present)
Former members
Chris Law, M.A., UK (2013-2020)
Marco Wikkerink, M.A., Netherlands (2013-2020)
Dr. Andrew Holmes, UK (2014-2020)
See also
References
External links
Community content is available under
CC-BY-SA
unless otherwise noted.