Franziska Rau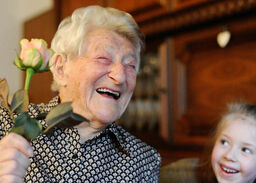 Pending
Franziska Rau (9 March 1902 – 6 December 2012) was a German supercentenarian who is currently pending.[1]
Biography
Franziska Rau was born and lived in Durbach, a city located in Baden-Wuerttemberg. Her parents were Josef Ziegler and Theresa Halter. During her childhood, Franziska Rau used to walk to school for 1.6 km every day between 1908 and 1912. She worked at a mine in Oedsbach. She married Hermann Rau in Lammersdorf on 16 September 1925. The couple had five children. Mrs. Rau widowed in 1968. In the same year, her father died. At the time of her 110th birthday in 2012, Franziska Rau had 14 grandchildren, 15 great grandchildren and one great great grandchild.
Reportedly, at the age of 110, Mrs. Rau was still in a good health, capable of reading newspapers without glasses and walking with the help of two sticks. Her recipe for longevity was keeping a healthy diet and drinking two cups of coffee a day.[2]
References
Community content is available under
CC-BY-SA
unless otherwise noted.