Franz Künstler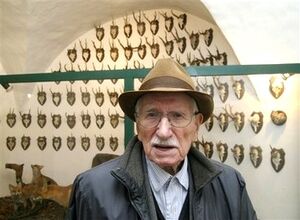 Centenarian
Franz Kunstler (German: Künstler) (24 July 1900 - 27 May 2008) was the last known surviving veteran of the First World War who fought with the Austro-Hungarian Empire. He was born in Soost, Austria-Hungary. A Hungary-German , he joined the Austro-Hungarian army in February 1918 for training in a mounted artillery regiment, and served at the Italian front in November 1918.[1] After the war, he fought against the communists, and was a soldier until 1921. In the Second World War, Künstler served six months in 1942 as a mobile courier in the Ukraine.
Künstler spent his later years in Niederstetten, Baden-Württemberg, Germany, and long worked as a guide in a museum. After the Second World War, he was expelled from Hungary like many other ethnic Germans.[2][3]
Asked about his nationality, Franz Künstler said that he feels connected to the German nation and sees himself as a German. He was a Hungarian citizen until 1946, at which time he obtained German citizenship.
References