Ellen Brandenborg


Birth:
7 January 1906
Skoerping, Nordjylland, Denmark
Death:
22 July 2017
Stavtrup, Midtjylland, Denmark
Age:
111 years, 196 days
Country:
DEN
Unvalidated
Ellen Brandenborg
(née
Rasmussen
; 7 January 1906 – 22 July 2017) was a Danish supercentenarian whose age is currently unvalidated by the
Gerontology Research Group
. She was the oldest living person in Denmark following the death of
Signe Hoejer
on 18 March 2016, and subsequently became the oldest living person in the
Nordic region
following the death of
Elisabet Ekenaes
. Brandenborg also became the oldest person ever to live in Denmark on 2 May 2017, a record later surpassed by
Karla Jensen
.
Biography
Ellen Adelaide Rasmussen was born in Skoerping, Nordjylland, Denmark, on 7 January 1906. She was called Adelaide as a child, named after her grandmother, who died in 1904. Her father was a watchmaker. When he got a job as a foreman at a large watchmaker and royal court, the family moved to Copenhagen. Her mother lived to the advanced age of 98 years and her oldest sister Ragnhild (1899–2002) to 102 years of age. In 1929, Ellen Brandenborg migrated to Montreal, Canada. There, she met her future husband Carl Brandenborg who worked as an engineer and a sailor. The couple had 4 children. The family returned to Denmark in 1936 and lived in Brabrand. After her husband's death in 1982, Ellen Brandenborg moved in an apartment in Kloeverparken.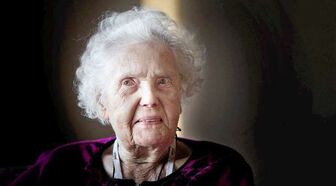 She stated that healthy food and joy of life is the recipe for a long life.
Ellen Brandenborg died in Stavtrup, Aarhus, Midtjylland, Denmark on 22 July 2017 at the age of 111 years, 196 days.

References
Community content is available under
CC-BY-SA
unless otherwise noted.