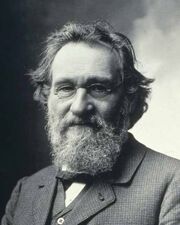 Elie Metchnikoff
(15 May 1845 - 15 July 1916) was a Russian-born zoologist who coined the term "gerontology" in 1903.
[1]
[2]
Others before him had studied old age in humans (such as
Michel-Eugene Chevreul
), but Metchnikoff was the first to give the field the name "gerontology".
Born in what is now Ukraine, he was convinced by his mother to study natural sciences instead of medicine, and enrolled at Kharkov University for natural sciences, completing his four-year degree in two years. In particular, he is credited with the discovery of phagocytes (macrophages) in 1882, and his discovery turned out to be the major defence mechanism in innate immunity.[3] He won the 1908 Nobel Prize in Physiology or Medicine.[4][5][6][7]
Note Regarding Human Lifespan
In 1909, Elie Metchnikoff was asked by the New York Times to estimate the maximum human lifespan a century later: his guesstimate was "140". Notably, actuary Thomas Emley Young estimated "125", which proved to be far closer to the actual result (122.45 in the case of Jeanne Calment).
References
Community content is available under
CC-BY-SA
unless otherwise noted.