Elba Alves Rolim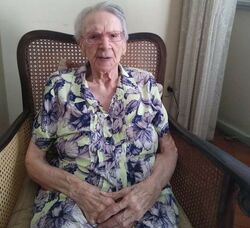 Unvalidated
Elba Alves Rolim (born 26 April 1910) is an Brazilian supercentenarian whose age is currently unvalidated by the Gerontology Research Group (GRG).
Biography
Elba Alves Rolim was born in Brazil on 26 April 1910. She married Herminio de Freitas Rolim.
In April 2020, she celebrated her 110th birthday.
Elba Alves Rolim currently lives in Copacabana neighbourhood, Rio de Janeiro City, Rio de Janeiro State, Brazil, at the age of 111 years, 178 days.
References