(Adding categories)

Line 26:
Line 26:
 

[[Category:Brazil births]]

 

[[Category:Brazil births]]

 

[[Category:Living people]]

 

[[Category:Living people]]

 
+

[[Category:Unverified Latin American supercentenarians]]
---
Revision as of 21:24, 10 May 2020
Elba Alves Rolim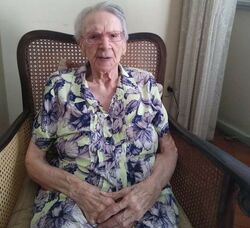 Unvalidated
Elba Alves Rolim (born 26 April 1910) is an Brazilian-Uruguayan supercentenarian.
Biography
Elba Alves Rolim was born in Brazil on 26 April 1910. At the some point in life, she moved to Uruguay.
In April 2020, she celebrated her 110th birthday.
Elba Alves Rolim currently lives in Montevideo, Uruguay, at the age of 111 years, 178 days.
References