Dorothy Rungeling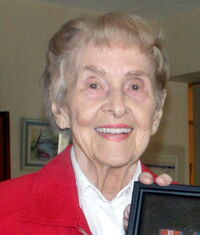 Centenarian
Dorothy Rungeling (12 May 1911 – 17 February 2018) was an award-winning pilot from Fenwick, Ontario. She was called one of Canada's most experienced air racers. She was the adopted daughter of Ethelwyn Wetherald, Canadian poet and journalist.
As a pilot, Dorothy participated in Canadian and International Aviation competitions including: All Women's International Air Races, the Women's Transcontinental Air Races, and the Canadian Governor-General's Cup Air Race. Once Dorothy received her private pilot licence she joined the Ninety-Nines (world-wide organization of female pilots formed in 1929).
A commemorative stamp was issued in honour of Dorothy Rungeling, the first woman to solo a helicopter, on her 99th birthday. She turned 100 in May 2011. Dorothy continued her writing in a column for The Voice of Pelham entitled Viewpoints. She wrote her last article for the publication in February 2013 at the age of 101. In 2015, at the age of 104, the Niagara Central Airport was renamed Niagara Central Dorothy Rungeling Airport following consent of Bill 20. She died on 17 February 2018 at the age of 106.[1]
References