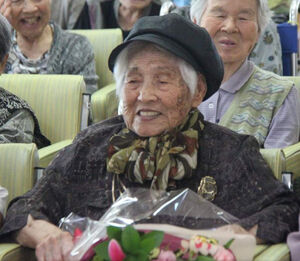 Chiyako Iwamoto (Japanese: 岩本チヤコ; 20 November 1907 – fl. 15 September 2018) was a Japanese supercentenarian whose age is currently unvalidated by the Gerontology Research Group (GRG).
Biography
Iwamoto was born in Japan on 20 November 1907.
Iwamoto was last confirmed alive on 15 September 2018 at the age of 110 years, 299 days. At that time, she lived Kushima, Miyazaki, Japan. She was the second-oldest person in Miyazaki prefecture, after Tame Yamaguchi. In September 2019, Iwamoto went to limbo, as she was no longer reported as the oldest citizen of the town.
References
Community content is available under
CC-BY-SA
unless otherwise noted.