Charlotte Strehlow



Charlotte Strehlow on her 111th birthday.

Birth:
18 July 1908
Stanton, Nebraska, USA
Death:
6 December 2019
Merrill, Wisconsin, USA
Age:
111 years, 141 days
Country:
USA
Unvalidated
Charlotte Paula Sarah Strehlow (née Zaremba; 18 July 1908 – 6 December 2019) was an American supercentenarian whose age is currently unvalidated by the Gerontology Research Group.
Biography
Strehlow was born in Stanton, Nebraska, USA, on 18 July 1908. She was one of seven siblings. Her father was a pastor and ministered in Nebraska for more than 19 years. Along with her brother, Gerhardt, she started a band in the church, for which she played violin. She studied music at a vocational school in Wausau, Wisconsin.
Strehlow was married to William (Bill) Strehlow, and they had one son, Gerald (1937–2018). For about 25 years, she and her husband operated the Polar Freeze Locker Plant in Merrill, Wisconsin, where people could rent freezer space to store meat.
In her later life, Strehlow lived in an assisted living facility in Merrill, Wisconsin, where she became a supercentenarian in July 2018. It was reported in 2014 that she has three grandchildren and four great-grandchildren. She died on 6 December 2019 at the age of 111 years, 141 days.
References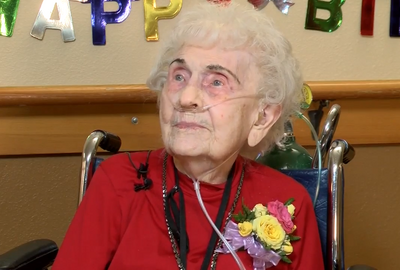 Community content is available under
CC-BY-SA
unless otherwise noted.