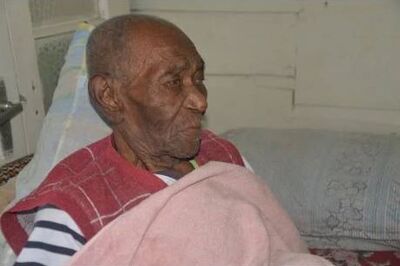 Charles Edward James
(claims 3 February 1905) is a Jamaican
supercentenarian
claimant whose age is unvalidated by the GRG.
Biography
Charles James, affectionately called Maas Tata, claims to have been born in Darliston, Westmoreland, Jamaica, on February 3, 1905. He was married to Louise James and they had 10 children before she died at the age of 97. According to his marriage certificate, James was 27 years old at the time of his marriage in 1940, which would suggest that he was born in 1913, and would be 106 as of 2019[1].
In 2018, James claimed to have been born on August 17, 1910[2].
James currently lives in Holly Hill in Westmoreland, Jamaica[3].
References
Community content is available under
CC-BY-SA
unless otherwise noted.