Carolina Zambon



Carolina Zambon on her 112th birthday

Birth:
3 June 1901
São Paulo, Brazil
Death:
9 November 2014
São Paulo, Brazil
Age:
113 years, 159 days
Country:
BRA
Unvalidated
Carolina Zambon (3 June 1901 – 9 November 2014) was a Brazilian supercentenarian whose age is currently unvalidated by the Gerontology Research Group (GRG).
Biography
Carolina was born in Fazenda Boa Vista, currently called Santa Lavinia, an area located between the cities of Piracicaba and Charqueada (SP), Brazil, on June 3, 1901. Throughout his life, he always lived in places and only went to have a house with electricity when he was over 80 years old.
"We always live on the farm. The ninth lived the entire transition from planting coffee, cotton, rice, beans to the permanence of sugarcane. Before moving to this house, she lived in two other places. And only in this one, 25 years ago, that she had electric light in the residence, "said the elderly woman's daughter-in-law, Elza Bombache Geraldin, 73 years old.
The family members said that the most difficult moment of the old woman's life was when she left her mother-in-law's house. "74 years ago we were very hungry, mother and father had nothing. And we started from scratch. When we became teenagers, we came to help. That's when things got better for us. " He died on November 9, 2014, at the age of 113.
Gallery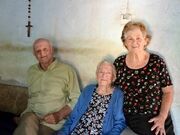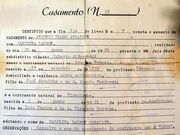 Reference